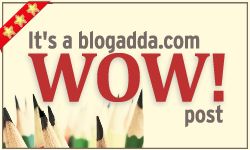 What would we do without words? What, I wonder! Yes, eyes speak too. But we all are so used to them. Can we go without speaking for even a single day? Perhaps not. Words help articulate our inner depths of consciousness. Words help us unburden our pains. Words help us express our joins. They give rein to our love, as well as our hatred. They are tools of communication, devices of influence. They can be like a balm that soothes, or like a sword that pierces. As I thought reflecting on the words that I just love, I realized that it was so difficult to choose just three out of the many that I loved. I loved the sound of certain words, and the symbolism of others. I liked a word because it evoked a strong memory and I liked a word because it had an association that made my heart flutter with excitement.
I thought and thought and thought and finally, here are my thoughts....!
Book
Those who know me won't be surprised. Tell me there is a book fair, a book sale, a library around the corner, and the greedy bookworm inside me wiggles and wriggles to break free and rush to where the books are. The affair with books started at a young age, when my mom gave me one of her Enid Blyton books. Then, Nancy Drew, Hardy Boys, Agatha Christie happened. What followed was a long association with books - poetry as well as prose, fiction as well as non-fiction. There also came a time when I could not pick a book anymore. Reader's block, I guess. I would fret as to why I could read no more. I would buy books, borrow books from the library and then, they would just stay there on the shelf, untouched. But gradually, as if it was a miracle, things began to change and I could read again. I have gone a bit slow but books have been with me. Come to my house and see books in every room - many now are for children. My kids are growing up and they need to uncover the treasure too.
There are many of my friends who fail to understand my craze for book. I always have felt that a good book can change your life. You don't need to read all that is out there in the world. But one good bok, and your life's perspective widens, you become more sensitive and wise. There is a world of emotions that goes untapped because we live a superficial life. It is book that questions, that prods, that asks us to dig deeper. For those who like books, and those who don't, I have something to say -
कभी अकेले हो तो कोई किताब उठा के देखना
उस किताब के पन्नो को दोस्त बना के देखना
उन पन्नो में लिखे शब्दों को परख के देखना
उन शब्दों में छिपी भावनाओं को जी के देखना
उन भावनाओं में निहित कुछ सबक भी होंगे
जो जीवन के अभिप्राय का आइना होंगे
उस आईने में खुद को देखना
तुम्हारी कहानी वहां से झलक जाएगी
तुम भी किसी कहानी का पात्र ही तो हो
किसने रची कौन जाने
तुम बस अपनी भूमिका के प्रति सच्चे रहना
उस सच्चाई को कोई तो पढ़ ही लेगा
तुम्हारी कहानी को कोई हमसफ़र भी मिलेगा
सच्चे साथी होंगे तो कहानी भी और रोचक बनेगी
किताब के पन्नों में और जीवन भरेगी
सच मानो मेरी बात
कभी अकेले हो तो कोई किताब उठा के देखना। …
Lullaby
A word that sounds beautiful to the ear, and that evokes so many images - lullaby or लोरी in Hindi. A baby cuddled in the mother's arms, all attentive to the sweet melodies she sings, as she weaves a dream about her child's future, or a baby in her father's secure arms, listening to his bass voice, as he struggles to find the right words of the lullaby while trying to put his little bundle of joy to sleep - aren't these images beautiful. A lullaby evokes images of sleepless nights, anxious but proud parents, a little seed sprouting to life, a chick sitting cozy in its nest, comfortable yet restless since it pines for more. It speaks of a future taking shape, some dreams being imagined. It tells about a beginning - a new life of not just a child but of the couple who have become parents now. It is symbolic of new responsibilities, of new ambitions, of new plans. It speaks of nurture, of care, of an unbreakable bond. A lullaby.....
Hear these wonderful lullabies...Sleep, baby Sleep and Hush Little Baby....
Even though I am a mother now, I still like to hear my mom singing. She sings for her grandchildren and it soothes me too!
Snowflakes
Doesn't it sound good to you? Have you ever felt the season's first snowflake touch your cheeks? Have you ever seen it descend slowly towards you? Have you noticed the magical serenity with which it floats? Isn't it truly, purely blissful?
Yes, it melts me too. It is cold but the moment it touches me, the moments it dissipates, it undoes me. It dispels every hard thought. It scatters a softness with its delicate fragility. Its transience speaks of a life lived fully. It is an exquisite example of nature's symmetry. They say that each snowflake is unique and the possibility of finding the same symmetrical pattern in a snowflake is rare. I don't know about that. All I know is that it is a special gift of cold winter months. It is what makes winters beautiful. Its white purity speaks of something unblemished, un-scarred. It is like a poem, falling word by word from the sky, touching us here and there, melting the frigidity away as it vanishes.
There is something worth sharing here with all of you. It is from Khaled Hosseini's A Thousand Splendid Suns. It is a coincidence that I came across these lines just when I was thinking about writing this post.
"She remembered Nana saying that each snowflake was a sigh heaved by an aggrieved woman somewhere in the world. That all sighs drifted up the sky, gathered into clods, then broke into tiny pieces that fell silently on the people below."
With those lines, I stop. Over to you, my friends...!
This post is a part of Write Over the Weekend, an initiative for Indian Bloggers by BlogAdda.