The world will be remade. And this is how:
Eve will not be the transgressor. If Adam slips, it will be because his feet have no suckers.
There would be no segregation of pink and blue colors. Sons would be able to play with dolls and they would not be scoffed at. If in certain tribes, boys were taken away from their mothers to be turned into 'warriors', then that practice will not be followed anywhere. Boys would remain with their mothers so that they can become sympathetic, affectionate and receptive. The world does not need warriors to sustain itself. It needs empathy, compassion and love.
Pandora will not be the harbinger of evils and sorrows. If Prometheus was the one who brought fire to Earth, Pandora will be the one who sustains that fire with her curiosity. Satiation is death. To keep exploring, to keep probing is life.
There will be more Amelia Earharts, Harriet Tubmans, Mother Teresas, Marie Curies, Rosa Parkss, Kalpana Chawlas, Sania Mirzas, Mary Koms, Aung San Su Kis, and Malalas. There will be more of the other powerful women I have missed here.
Woman will not be the woe of man - not even in mythology.
Woman will be the wielder - in and out of the house.
Woman will still have the power to give birth. She will forever remain supreme in this regard. It will be she, and only she, who can create. She will imitate the Eternal Creator and man will not be able to surpass him in this.
The world remade would be a safe place for a woman. There will be no need for a chivalrous knight to protect her honor. No, not even the Greek Amazons will be needed. Good sense and wisdom will prevail.
Healthy competitions are a must for any society to progress. Static society is a dead society. But the world remade will be a world not of physical combats. Pen will be 'mightier' than sword. And right from the beginning of the beginning, woman will be the benefactress of knowledge. She will embody Saraswati, Isis, Minerva and Athena.
The world remade will be a world full of 'phenomenal' women, just as Maya Angelou said.
The world will be remade. And this is how....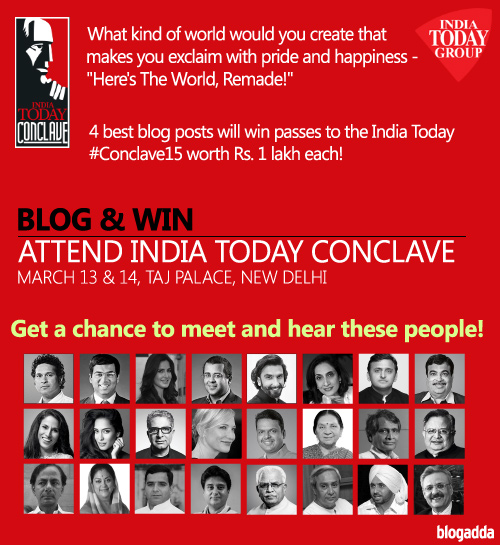 "I am participating in the
#TheWorldRemade activity
at
BlogAdda
in association with
India Today #Conclave15
".