Fresh, crisp grass shone everywhere. Spring showers had rejuvenated life again. Winter slumber scurried away as scents from spring flowers loomed in the air sending waves of fresh delight. Nature stood smiling, ready to embrace the little kids coming out of their houses. After all, she too had missed the chirpy companionship of her buddies.
But one of her companion stood there with no smily curve on his face. He fidgeted and walked uneasily, turning and looking in one direction. It seemed like he was waiting for someone or something. His friends kept calling him, reminding that they did not have a long time to play as they all had to go to work. But he ignored their calls and stood there or just kept pacing to and fro restlessly.
He was a nine year old boy wearing a tattered blue t-shirt and a dusty shorts. His appearance was far from clean. He might have been working the whole day carrying heavy loads to the truck and back again. It was not his age to work. No, not at all. But it was better to labor and earn bread on a daily basis than die of hunger pangs. He had felt his stomach churn and ache terribly when he had not eaten anything for three days. It had not been easy. He did not have any family. He had to look after himself.
Summers brought him the sole delight of his life. At least for the past two years, this had been the trend. A chance meeting with baba - the old man who came to the park to sell ice-cream. Baba used to tell him stories. There was always a little boy in all the stories. Baba weaved yarns of fantasy as well as tales of inspiration. He had also taught him to read and write a little. Every single day of summer had been spent with baba. And every single night was spent in the dreams that the mind created out of the stories he heard from him.
But two days had passed and baba had not turned up this year. Baba used to go away as winters came. He said that he had a family and he would go visit them in winters. It was warm there where his family lived at that time. But baba had been punctual in warm days. Why was he not here? Was he ill? Had something happened to him?
In his anxiety, the little boy headed toward the shanty where baba lived in summers. But baba was not there. Disappointed, the boy retreated to the park. From a distance, he could hear kids hollering for ice-cream. But instead of baba's vending machine, there stood a truck - a food truck selling ice-cream and other snacks. Friends yelled out his name but he was not in the mood to eat anything. Then a voice called out his name, "Vishnu.....kahaani sunega...."(Vishnu...will you hear a story?).
Vishnu's heart skipped a beat.
It was Baba's voice!
It was baba's truck!!
Baba had come!!!
There would be summer again in his cold life. There would be warmth again in his frigid heart. He rushed towards him. He tripped and fell down. His knees were bruised as they scraped against the pebbly road. But he did not care. His wounds needed no healing. His heart was repaired and that was all that mattered.
"This time I will tell you a story of an old man who bought a truck for his little son so that he would never have to part from him again, be it summer or be it winter," baba said.
"Every time I went away from you, my heart bled, Vishnu. So this time, I decided we are never going to part. I have worked hard all these years. I have no family but you. When I saw you two years back, it seemed that sun shining above had given me a reason to live. The first time I met you, I saw that you were my life. I don't know why. I might have died without you, I was so utterly wasted at that time. But when I saw you slaving your life away, I decided I would live for you. You will not work now. I will send you to school. Your early childhood is sadly lost. But in the coming years, I will do what I can to keep the sun smiling in your life. If it rains, we will shelter each other. If it is hot, we will eat ice-cream...."
Vishnu smiled. Tears kept flowing. Baba scooped out his favorite mango flavor. Then he sat him down beside him to spin another story.
This post is a part of Write Over the Weekend, an initiative for Indian Bloggers by BlogAdda.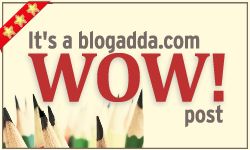 WOW badge for the prompt 'A Never ending summer'
(Like my posts. I feel good. Leave me a comment. I feel great!)
[Visit http://www.top10reviews.in/ for interesting articles.
]